The pages in this Category are descriptions of various things about homes, cars, appliances, mortar/cement work, plumbing, electrical, electronics, water treatment etc that we've observed here and some solutions we've found.
Feel free to post replies that have questions, and we can cast about with various friends and family members to find out their suggestions and also receive/post proposed solutions that worked from other readers.
e.g. Yucatan has very hard water both from private wells and in public water supplies. This hard water ultimately leads to a steady build-up of scale / Calcium carbonate / CaCO3 (saro) on the flapper valve in the bottom of flush toilet tanks (this valve is called a sapo = toad in Mexico.)
When saro builds up on your sapo, it causes the flapper valve to leak slightly all the time.  These slight leaks drain your tinaco (water storage tank), and stain the toilet bowls with streaks of saro and sometimes with streaks of iron stains.
If your home has a hydropneumatico (water pressure pump and ballast tank), then the slowly leaking toilet(s) can cause the hydropneumatico to cycle "ON" every 20 minutes – every hour, when no water is being used in the house.
So,  if you fix the leaking toilet tank valves,  then your pump should not run for hours when no water is being used.
First full article: Test Your Toad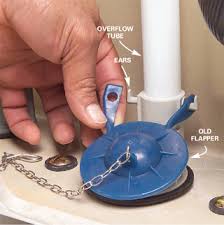 Your Toad / Tu Sapo
* * * *
Feel free to copy with proper attribution: YucaLandia/Surviving Yucatan.
© Steven M. Fry
Read-on MacDuff . . .